UACA 5 Miler Race Report
May 31, 2016 / Nicole Huston


Updated Mar 2, 2020



---
Race Info
Location:
Upper Arlington, Ohio
Date:
May 30, 2016
Distances:
5 mile, 1 mile
People:
400+
Race Website
This race was purely a "fun" run that turned out better than expected. The course had some hills and was warm but I got it done. My race plan was essentially to do a medium-hard effort for the first three miles and switch to hard effort for the last two. I wasn't worried about pace for this particular race, just my perceived effort. It took me about a mile and a half to find the effort level I wanted to start with. Hills were scattered across the course which made it hard to gauge my overall pace during the uphills and downhill stretches. The course was a part of Upper Arlington that I don't typically run through, but did thoroughly enjoy. Noted that I wanted to run in that area again eventually.
Before I knew it the mile 3 sign appeared. I realized it was time to kick up the effort for the last two miles, however, I briefly tried to talk myself out of it. Then someone tried to pass Mr and that was push I needed. Looking at my HR, you can clearly see that my perceived effort strategy worked quite well with my HR jumping at the 3 mile mark.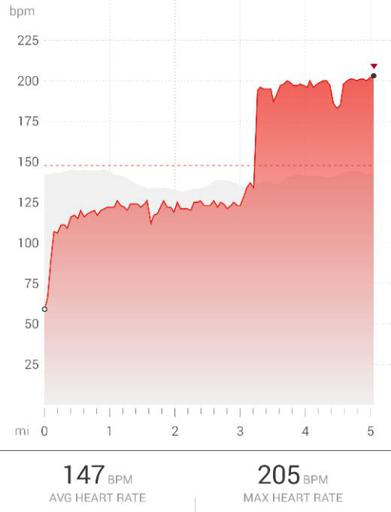 I've been running with a watch again after teaching myself to run solely based on perceived effort for over a year. Now it's interesting to see how closely my HR mirrors my perceived effort. Forget about pace, that stresses me out and is the whole reason I stopped running with a watch in the first place.
Final Time: 35:26
1st in my age group and 8th overall. Unexpected and not bad.
Shirt and AG Award