Another Dam 50k Race Report
June 30, 2016 / Nicole Huston


Updated Mar 2, 2020



---
Race Info
Location:
Englewood, Ohio
Date:
June 4th, 2016
Distances:
50k
People:
120
Race Website
Pre Race Nightmare
The plan was to arrive at the start ~40 minutes prior to race. I put the address from the website into my phone and was off. My phone took me to the MetroPark and all I needed to do was navigate to the start. I drove in circles wondering why I wasn't seeing other cars. The only road I could find through the park was a one way street that lead you straight back out into town. I ended up exiting the park without seeing any blatant evidence that a race was going on. I went back to the entrance and tried to go the other direction at a fork I had seen in the park. All I found was a frisbee golf course. There were numerous other cars circling with me at this point so I assumed I had to be close. I tried to decipher the park map on my phone, comparing it to where I was on Google maps. I found an aid station and asked for directions. It was 7:50. The race started at 8. They were throwing directions at me as if I was a local and caught about 5% of what they said. Eventually I pulled up Google maps (as if I was stuck in a country where I didn't speak the language) and asked them to point out on the map where I needed to go. Turns out the MetroPark was split into two parts by the dam. I falsely assumed there was only one entrance and all of the roads within the park connected. After finding the real park entrance, I parked and ran out of my car. The pre-race announcements were wrapping up and picked up my bib. The race was off. I rushed along to get ready but wasn't quick enough. I started the race 5 minutes late, not bad all things considered!
Start
Since I started the lap late, I started out a tad faster than I should have because I wanted to catch up with everyone. It was the first time I've started a race late before so I was stressed. The course was four 7.8ish mile loops. My plan was to run the first loop easy and take in the course then complete lap 2 at a bit harder effort. I knew that the 3rd loop would be the hardest loop for me mentally so I just accepted that and planned accordingly. Finish 2 laps, push myself through the start/finish aid station ASAP so I wouldn't have time to contemplate the 3rd loop. Then at that point what's one more loop?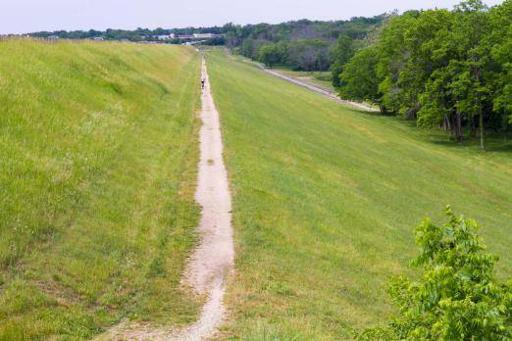 The Rest: Short and Sweet
This was a fast course and I felt pretty "in the zone" for it. Most likely because of my morning adrenaline rush – so I guess it wasn't all bad. I liked this course because there were plenty of segments where you saw other runners passing in the opposite direction which kept my mind busy. I always make a point to tell everyone good job as I am coming towards a runner when I have the breath. There's another runner who I always see in shorter fast races who thanks every police officer as he passes. Meanwhile, I'm off to the side panting 3 breathes behind where I want to be… chalk that up on my running goals list. The course was a good combination of paved trails, road, regular trail, and wooden bridges. Of course, the wooden bridges HAD to have slick spots from a previous rain, otherwise it just wouldn't be as fun. I swear, no matter what shoes I try I will never be able to get adequate traction on wet, weathered wooden bridges. There was a long stretch of bridge where you were winding back and forth between the trees. As I rounded a corner the bridge went from dry to wet, which I saw right as my foot was about to hit. Bam I slipped and tried to catch myself my with hand but instead my fingernail got caught between two planks as I went down. I hit my hip and discovered later that I also scraped up my shoulder and back. Despite scrapes all over, my fingernail was the only thing that hurt. It was bent backwards and filled up with dirt which only irritated it more.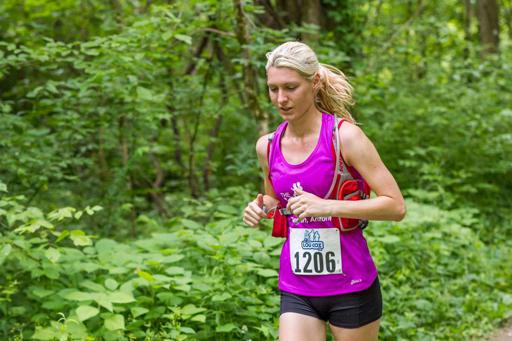 The last loop was the most interesting. The temperatures were rising and it was getting HOT. I was trying my best to keep moving but was starting to get tired. My mind wandered about points in the course that were coming up and I would stay distracted long enough to feel like no time was passing. With about 3 miles left, it started sprinkling. It was refreshing for me as I had already passed the last section of wooden bridges but found myself feeling guilty that others would have to navigate those at this point. The bridges had already taken their turn with me that day. Once I hit the opening to cross by the dam, I returned to the paved bike path. The tree covering was gone and the rain changed from a sprinkle to a nice pour. Running on the bike path was a bizarre sensation because my legs were baking from the heat radiating off the blacktop meanwhile my top half was cold from the rain. At this point, I had just over a mile to bring it in. I stuffed my face with post-race pizza (all too typical) and the rain turned into a downpour.
Final Time: 5:31:07
This race was a 50k PR for me. In March I did the Green Jewel 50k which is all paved and considered a fast course and somehow beat that time (5:48:03). It was exciting and unexpected for me. I also came in 4th female overall.
Race Shirt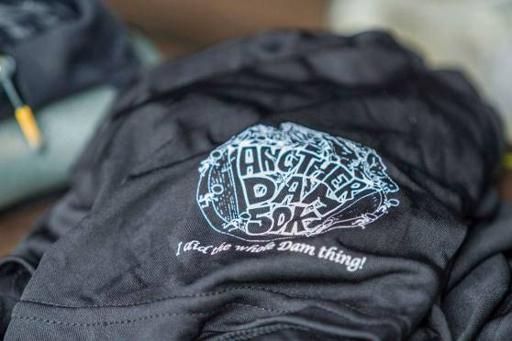 ---
All race photos taken by Tracy