---
Race Info
Location:
Tacoma, Washington
Date:
Saturday, May 4, 2019
Distances:
5k
Race Website
I kicked off the Tacoma City Marathon weekend with the 5k. In the afternoon was a marathon and a 50k awaited me the next day. I was nervous.
It was a struggle to get ready in the morning and a battle to get in the car. I doubted my fitness. In February I PRed in the marathon, but took lagged in my training afterwards. Since then I'd only ran one 50k, and few halfs or less. Speed had been more of my focus. So here I was. Even though I've ran a handful of back to back marathons or 50k's my mind was preoccupied worrying about whether I'd make it to the finish injury free or if I would time out on Sunday's 50km.
With doubt weighing heavily upon me, I lined up far from the starting line. Unfortunately I still found myself at the front of the pack. No one else was more confident in themselves than I was it seemed. With my marathon looming an hour away, and a 50k on deck the next day, I knew I didn't want to race too hard.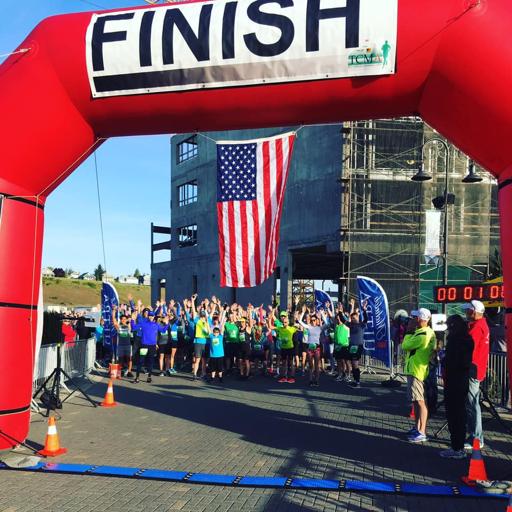 Despite my wishes the race started anyways, and with me at font. Me and my following procrastinators all ended up having to run several extra steps to get to the start line. I decided I'd do a rough 80% effort.
We turned out of Point Ruston onto a path neighboring the water. It was early enough that the path was mostly clear, which worked well for a 5k. Later in the day it was much busier, which made it hard to pass other racers. Thankfully it was manageable at my snail pace.
The course was a quick out and back to a turn around, and I realized at the turnaround that there was a huge gap between me and the next few females. "Ok fine, maybe I'll race the second half a bit faster," I thought.
Running back was fun as people cheered me on and you got to waive at all the other participants. It reminded me of my usual free weekend parkrun.
The way back was a bit longer. The path turned towards the road, behind Point Ruston apartments + businesses before wrapping back around to the finish. This part teased you a bit, as you ran right next to a set of stairs that took you to the finish, but you had to keep going and climb a small hill before looping back to actually finish.
I ended modestly with a very similar time as I'm used to getting at parkrun, so I was feeling good. I'm not sure if I ended up sticking to my 80% effort plan, but I did get a nice ribbon for my run and a few extra minutes of rest before the start of the ghost marathon.
Final time: 22:16