Field of Heroes 5k Race Report
May 31, 2016 / Nicole Huston


Updated Mar 2, 2020



---
Race Info
Location:
Westerville, Ohio
Date:
May 29, 2016
Distances:
5k
People:
1,500+
Race Website
Coming off of my not so great showing at Fore! Miler, I set out to do the Field of Heroes 5k as part of the Fleet Feet Race Club.
I showed up feeling sore and deflated, kind of wondering why I thought this would be a good idea. "Anything under 8:00 pace will make me happy today. And if that doesn't work out, well… oh well. There's no shame in walking races."
I lined up in no man's land behind the super fast group and then just ahead of the 8 minute pace sign. The empty section between me and the start would typically fill up, but it never did. Just before the race started I ended up inching my way forward to fill the gap.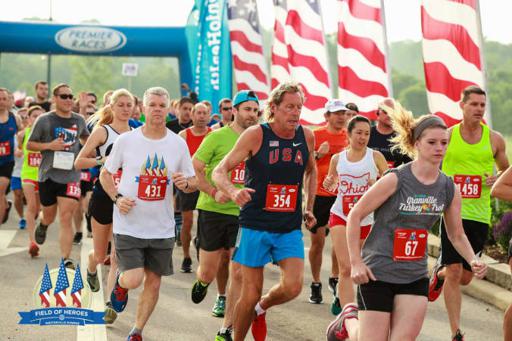 The race started and my pace already felt hard. I passed another runner notorious for barely finishing ahead of me. I've never beat him. This pace already felt like a mistake.
This was the first time in a long time that I'd run with a watch (over a year!) - I didn't dare look at my pace for fear of psyching myself out. I just kept going. As I ran surroundings started to look similar, the First on the First 5k shared many of the same roads and the familiarity made the remainder appear less daunting.
Around this time I began passing a decent chunk of people. I thought I was doing well, but it was hard to know where I was amongst the females since I had started so far back. The last girl I passed was around mile 1.7ish and I figured there were plenty ahead of me. I kept pushing until I got to a bridge where I misunderstood someone's directions and almost crossed the street to the wrong direction. My concentration was lost at this point so I just focused on bringing it back and finishing strong. The finish felt extremely far away in the humidity even though there was less than a mile to go.
Out of the corner of my eye a pink singlet loomed, it was probably a girl behind me. I kept pushing but also thought I didn't have anything left to give. If she passes me, ok, because I was going at 100% effort.
As we got closer to the finish people were yelling and cheering and someone mentioned that we were 1st and 2nd female.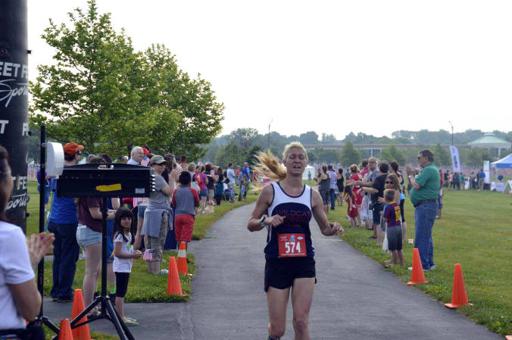 Final Time: 20:37
For some reason I didn't believe this, even upon finishing. It wasn't until I returned home to check the results for the race that I finally accepted that I might have won. I reloaded the results page numerous times the rest of the day, I guess still in shock that I managed to come in first.
I also PR'ed, a week after Worlds End, which had felt like it ripped every inch of my leg muscles apart. It didn't seem like the right week to PR, but that means I'm making progress towards one of my arbitrary first running goals to break 20, set 4 years ago when I started running and clearly thought that improving would be easy work.
Race Swag