Westerville Rotary July 4th 5k Race Report
July 15, 2017 / Nicole Huston


Updated Mar 2, 2020



---
Race Info
Location:
Westerville, Ohio
Date:
July 4th, 2017
Distances:
5k, Kids Run
People:
436
Race Website
I signed up for this race because it was part of the race series for Columbus Run Crew. I enjoyed this race last year (despite starting out too fast!) so it was easy for me to sign up again. As the race came closer though I was regretting my decision to sign up.
My 100 miler was in 4 short days!!!
WHAT on earth was I doing showing up at a 5k?!
Clearly I was not going to race this one. I decided to run a tempo pace of 65 - 75% of my typical 5k pace. This would be a good way to get a workout in without destroying myself before the weekend.
The previous week I lost my Garmin charger so my watch was dead. This actually ended up being a good thing because it allowed me to run 100% by feel without stressing over pace. It was a great feeling! Also my watch tan lines were terrible! The area of my arm that typically is covered by my watch got some much needed sun.
Overall I thought I did a good job pacing this race. My finish time was about what I was hoping for and I finished not feeling too burnt out. That was the most important part of this entire run.
Final Time: 22:44
I got 7th in my age group. This race always draws fast runners so I didn't have high expectations. I was feeling a little jealous when I finished though, wondering where I would have placed had I been racing full speed.
I lived to run another day though, and more importantly, the Canal Corridor 100.
Race Collections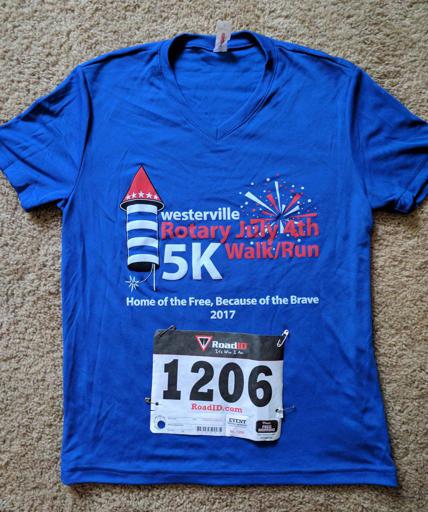 I liked the shirts this year! Last year they didn't offer gender specific options. This race doesn't offer medals or anything, but they do have tons of bagels and fruit every year at the finish which more than makes up for it in my mind.