UACA 5 Miler Race Report
June 10, 2017 / Nicole Huston


Updated Mar 2, 2020



---
Race Info
Location:
Upper Arlington, Ohio
Date:
Monday, May 29th, 2017
Distances:
5 mile, 1 mile
People:
319
Race Website
I ran the Field of Heroes 5k the day prior to this race. I knew I was out of (speed) shape going into this weekend so I had low expectations.
What I didn't know what that my expectations were too high for this race! I was hoping to maintain a 7:30-7:45 pace for this race. My finishing time was well within that range, but I felt like complete crap from mile 3 onward.
Mile 4 was done at over an 8 minute pace.
My legs were heavy from the speedwork the day before and were barely keeping up. Last year I increased my effort significantly during the last 1.5 miles of the race but this time around I didn't have it in me.
After this race I seriously questioned all the ultras I have been doing. The training cycle this spring obviously caused a huge blow to my speed.
I could run 75 miles but couldn't finish a 5 mile race feeling strong.
I don't have an answer yet regarding what I want to do going forward. So many other runners seem to juggle speedwork and ultras.
I haven't had a marathon PR since I started doing ultras.
For now I am going to experiment with my training schedule and see if I can gain speed and endurance. Hyner 50k is already on the schedule for 2018. More to come on that…
Final Time: 38:24
Even though I am disappointed with where my speed is right now, I did earn #2 in my 20-29 age group. So this race wasn't all bad. Simply the beginning of a new focus for my runs.
Race Collections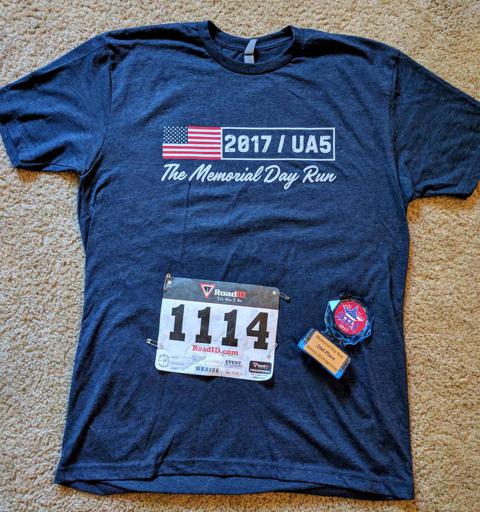 I wasn't a huge fan of the shirt design this year plus the shirt wasn't tech material. The shirt was soft though! I grabbed the shirt in for James instead. (Two free shirts in one weekend! He is so lucky!)