Orange out the Door 5k Race Report
March 23, 2017 / Nicole Huston


Updated Mar 2, 2020



---
Race Info
Location:
Olentangy Orange High School, Lewis Center, Ohio
Date:
Saturday, March 11, 2017
Distances:
5k, Kids Run
People:
185
Race Website
It's hard enough to convince yourself to run in the winter, let alone do speed work! I wanted to get a 5k in to gauge where my starting point was since I anticipated that I would be picking up the speed work in the spring and through the summer.
I picked the Orange out the Door 5k because it fit well in my training schedule and it had a kids run for my youngest brother, Connor. It was also the cheapest 5k option in the Columbus area that weekend.
The race was to raise money for the Track and Cross Country programs at Olentangy Orange High School. Most of the runners were high school aged, but the race had runners of all pace, from speedy to walkers.
I recruited my boyfriend James to come and watch Connor for ~25 minutes while I ran. When we got there I picked up my shirt and bib. The race had a lot of random things in the bag that included a water bottle and a neon yellow reflective slap bracelet. Connor was more excited for this stuff than me, so I gave it to him and he proceeded to slap James and I with the bracelet for the rest of the morning.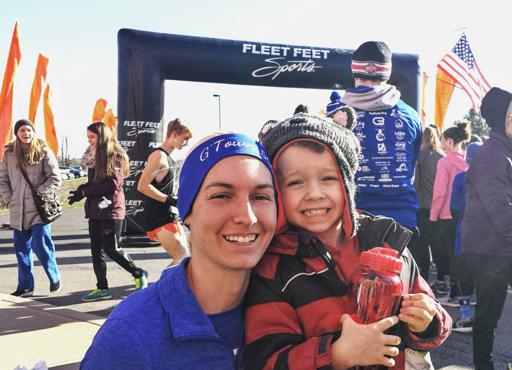 I went out to the start and was nervous. I thought all of the high schoolers would leave me in the dust and make me look slow. My goal was 22-23 minutes, but I had no idea if that was overly ambitious or not as my training had only consisted of slow miles for the past several months.
I ran and just tried to keep an even pace. I didn't dare look at my watch because I didn't want to know. The course was a loop that started and ended at the high school. There were some rolling hills in the first mile but they were small. I felt extremely out of shape during this race.
I passed a few runners within the last 3/4 mile but was wheezing hard. Then I hit the finish and Connor and James handed me a bunch of stuff to hold for them so they could keep playing. Seriously guys?! My ears had a weird feeling of pressure in them that I haven't experienced before but it HURT. I was still trying to catch my breath. Connor said I looked funny. Thanks.
Final Time: 21:44
Then we went inside where there was a surprising amount of snacks. Smoothies, bananas, string cheese, fruit snacks, and granola bars. Connor also got a pair of orange sunglasses from a booth.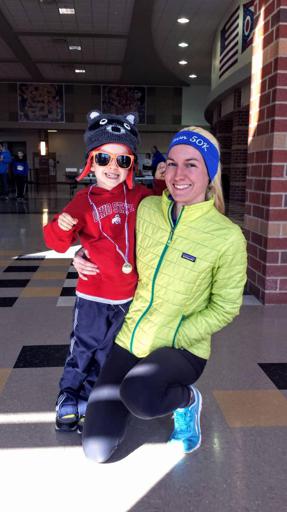 The kids race started about 45 minutes after the 5k start. The kids race was short, about 100 yards. Connor was already exhausted from running around for the past 45 minutes but was excited to race. He started walking halfway through but went back to a run when another kid tried to pass him. He finished and said, "That race was so hard and made me tired." When I asked him if he thought it was fun he screamed, "YES."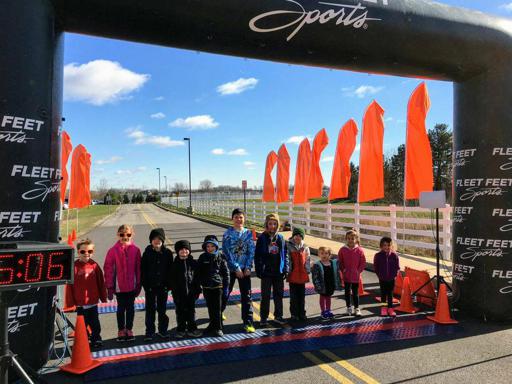 Race Gear