5th Line 5k Race Report
February 20, 2017 / Nicole Huston


Updated Mar 2, 2020



---
Race Info
Location:
Nationwide Arena, Columbus, Ohio
Date:
Sunday, February 5th, 2017
Distances:
5k
People:
3,000
Race Website
Last year was the first year of this race. I was excited about this race due to the novelty of finishing on the Blue Jacket's center ice. Prior to that M3S Sports put on the "All Star 5k" the year that Columbus hosted the NHL All Star Game.
The price had gone up significantly this year, however, the entry fee included an added bonus: ticket vouchers! $60 was a steal for a race and 2 CBJ tickets. The ticket vouchers had 5 game options to use them, all middle of the week games though.
A nice perk of the race is that you can arrive early and hang out in Nationwide Arena before the race to escape the cold. 15 minutes or so before the race I headed outside to line up. With 3,000 at the race, the start line jammed up pretty quickly.
I ran this a week after my back to back 50ks (Run for Regis and Winter Buckeye), so needless to say my legs were shot. I figured I'd make a tempo run out of it, knowing full well my pace would be slower than last years' pace. I lined up with the 8 minute pace group and was just hoping to stay ahead of them.
My heart rate was 90 bpm at the start line which is extremely high for me. I wasn't nervous or excited, just beat from back to back 50ks and donating blood the day after. My body was screaming at me from all of the stress.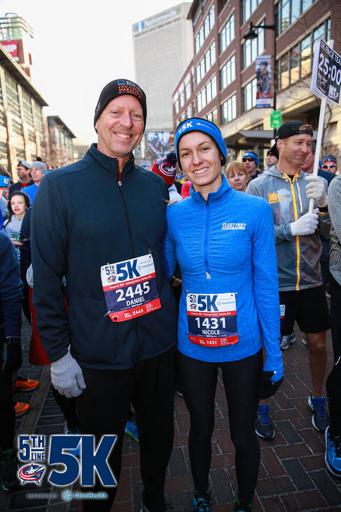 LEO sang the national anthem. Any Blue Jackets fan knows who he is. Dancing Kevin was rumored to have been at the race as well, but I never saw him.
The race course had been changed from the prior year, and overall was flatter than what I remembered the old course being. The only issue was that almost everyone's watches seemed to register the course being a quarter mile short. Not a big deal in the grand scheme of things, but still not a 5k.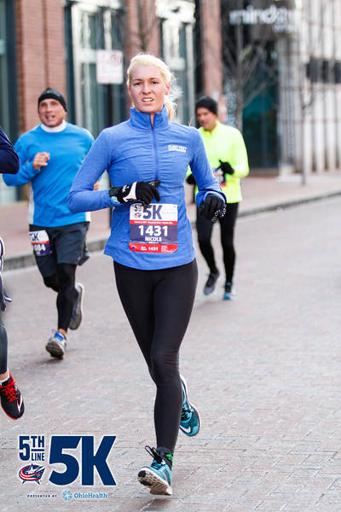 I was pushing 7:20 pace and that was all I could muster on tired legs. I managed to hold onto that pace through the finish.
The best part of the race (besides the ticket vouchers!), was finishing on center ice. The center ice was covered in mats so you weren't actually on ice. I think it would have been cool if they let it be partially uncovered and roped off ice sections so it looked more familiar. Nonetheless, it was a very cool feature.
Finish Time: 20:52
Race Collections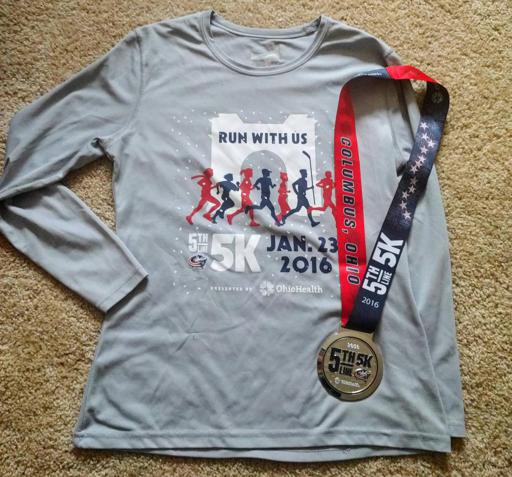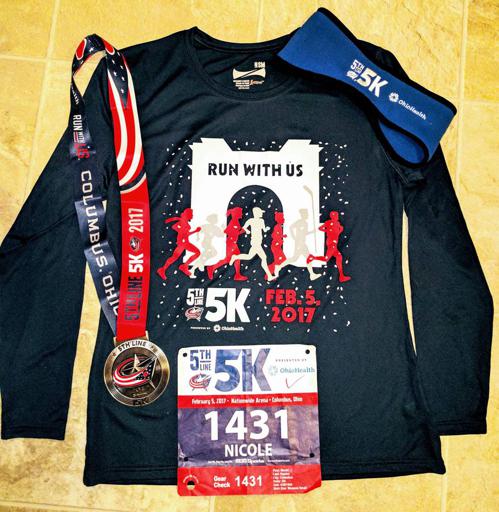 ---
Race Photos from Cap City Sports Media