Wendy's Frosty 5k Race Report
September 15, 2017 / Nicole Huston


Updated Mar 2, 2020



---
Race Info
Location:
Huntington Park, Columbus, Ohio
Date:
Sunday, August 13th, 2017
Distances:
5k
People:
704
Race Website
My plan for the weekend was to run 14 miles on Saturday. As my fall mileage builds I figured adding in a 5k on Sunday would be fun to see how my legs are feeling on back to back hard days.
I searched Running in the USA for something close by to fill my weekend. When I stumbled across the Wendy's Frosty 5k I had to sign up. What a novelty! How had I not heard of this race in town before? Not only did you get a frosty upon finishing, but you also got to finish on the field in Huntington Park! I have already finished on the 50 at Ohio Stadium and on center ice at Nationwide Arena so I figured I needed to add another Columbus sports venue to the list!
Wendy's Frosty 5k that finished on the field at Huntington Park pic.twitter.com/kfWJADYcWb

— Nicole (@bonktothefinish) August 13, 2017
I had to do a lot of research before hand to figure out that the race shirts were cotton and not tech material. The shirts were really soft and nice but I never wear cotton (I either live in workout clothes or am dressed up for an occasion not suitable for a t-shirt). I grabbed a large for James. Since he has worn it a few times now he has gotten questions from strangers ranging from asking if he works at Wendy's to wondering where they can buy a frosty shirt.
Race Course
The course started just outside of Huntington Park. It wasn't very clear where the race was supposed to start exactly in any of the pre-race information. This was the biggest improvement I thought could be made. I overheard numerous people asking others where the race started and no one knew. Finally someone who had run the race before pointed it out down a side street.
I had 14 miles on my legs and they were feeling heavy at the start. I didn't have any specific goals other than running at a solid effort level. The course was through the Scioto Miles area that is a typical route for downtown races. None the less it's scenic with the river views so it doesn't get old.
Final Time: 22:09
Race Collections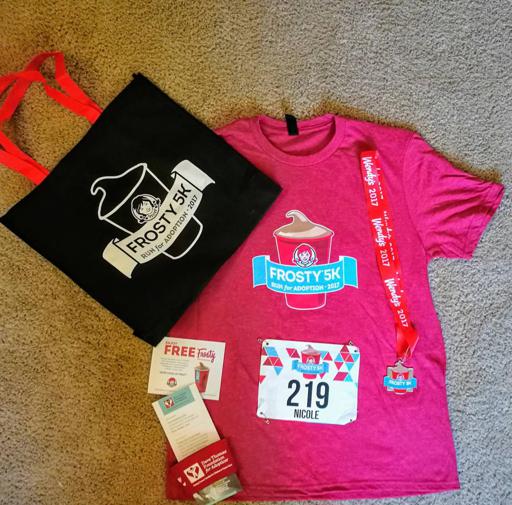 The race bag also included a free frosty keychain with any purchase for the remainder of 2017.
*Frosty not pictured.