Flying Feather Four Miler Race Report
December 20, 2017 / Nicole Huston


Updated Mar 2, 2020



---
Race Info
Location:
Club at Corazón, Dublin, Ohio
Date:
Thursday, November 23, 2017
Distances:
4 miles, Kids Run
People:
~3,000
Race Website
Going into this race I was hoping to PR in my 4 mile time.
The morning of the race it was COLD. I was going to run in thermal tights, and two upper layers. The parking for this race was about a mile from the start. I brought my boyfriend and dog along for the fun.
The race offered shuttles to the start but obviously that wasn't really an option with my dog. I had on extra layers for the long walk over. The lakes were all covered in ice and my dog was having fun breaking the ice and sloshing through the cold water. What a crazy animal.
I made it to the starting area without much time to spare before the race start, about 15 minutes. This was the perfect amount of time to stand in line for bathrooms and shed my final layers before heading to the start. Once there I noticed the tips of my fingers on one hand were cold. I looked down to see that the windproof mitten layer on my gloves had a hole in them. I had recently worn these gloves and had no idea how that hole got there. For the rest of the race one hand was much colder than the other.
Next I went to turn my GPS watch on. Annnnd, the battery bar was on zero. I had assumed my watch was charged enough for this race but I guess not. Oh well.
The race started and within the first few hundred feet it took a right hand turn. I rounded the corner and my right ankle suddenly hurt. This was the same ankle that had some lingering swelling after BBA 50k the past week. I started to get a little worried for how the rest of the race would go.
Mile 1 hit. I looked down at my watch: dead. No split time. On to the good news: my ankle was warming up and the pain was dying down.
I ran the rest of the race by effort, which was surprisingly challenging since I haven't done in a while. Without a watch it was difficult to gauge my performance, and I was left feeling like I wasn't pushing hard enough.
I saw the sign for mile 2 but missed it for mile 3. That sure felt like a long mile. I was pretty sure I was past mile 3 but it was all a guess. Eventually I upped the pace, guessing that there was about a mile to go when in reality it was much less than that. The finish line was much closer than I realized.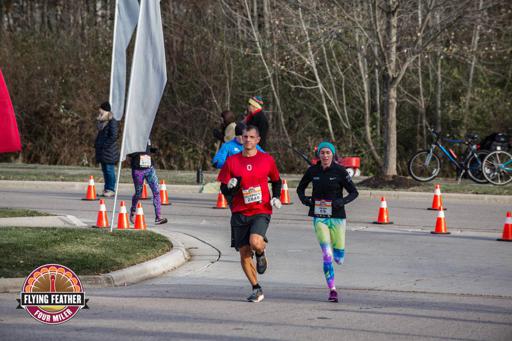 There was a gradual downhill that I took full advantage of into the finish.
Final Time: 28:19
Unfortunately this wasn't a PR for me and I was left feeling pretty bummed. Something about the combination of my watch dying, leftover ankle pain from the prior week's 50k, and the cold weather just made it not my day. PRing in my 4 mile race time is still something floating out there for another day.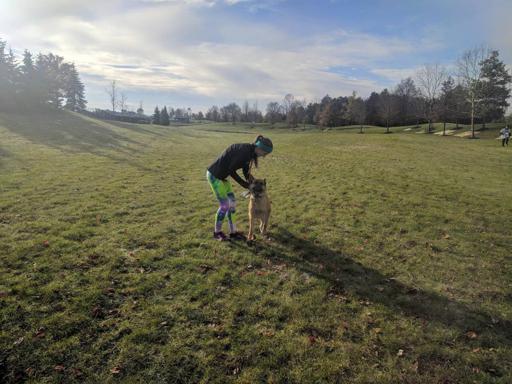 Race Collections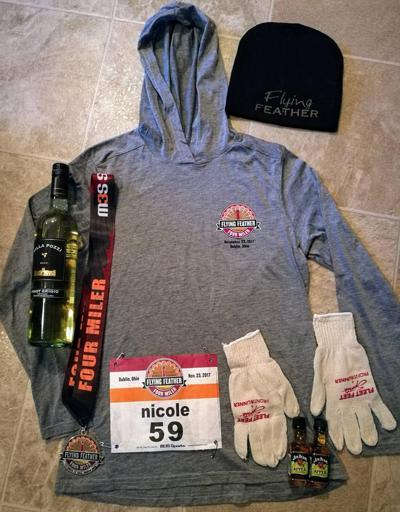 ---
Race Photo from Cap City Sports Media