Camping in Comfort on the Cheap
August 23, 2017 / Nicole Huston


Updated Mar 2, 2020



---
As I complete more ultramarathons and travel further and further to find new races, I decided to invest in some quality camping gear. Buying great gear upfront pays off quick when hotels start near $100 per night.
Since I use this gear often I wanted quality gear, but without the name brand price. I spent long days and nights reading reviews and searching to the edges of the internet to make sure I wasn't spending too little or too much.
Here's what I came up with:
Tent
While some features may be optional this one is pretty necessary for camping. I wanted a light tent that could also be used for backpacking. I debated on a 3 or 4-season tent for a while. Finally I decided it was more important to me to have a light tent than a 4-season tent. Some reviews of this tent showed people using it in the winter, so while it won't hold up for a snow storm it will work fine for me.
I bought this 3-person tent so I can squeeze myself, my dog, and boyfriend into it. 3 full grown adults would be a tight fit in this tent though.
Recommended Add-On: Floor Saver to protect the bottom of your tent. Especially important if you are camping on rocks/roots/sticks.
Sleeping Pad
I originally splurged and bought a Therm-a-Rest EvoLite Regular. It had all the specs: self-inflating, super lightweight, and compact.
But it sucked. It wasn't as thick or comfortable as expected, and provided little insulation against the ground. Despite taking extra special care it quickly got a hole and defalted over night.
I decided self-inflating pads were too high maintainence for me and bought this cheap foldable foam mat. It was more comfortable than the first sleeping pad and extremely durable. So for now I'm sticking with it.
Sleeping Bags
Right now I have two extremes:
A sleeping bag liner that also works well by itself in the summertime.

A 0 degree sleeping bag. P.S. I get cold easily, so I doubt this would actually keep me warm at 0 degrees. The bag was also much larger than expected, definitely wouldn't classify this one as compact!
Pillow
I recently found this inflatable pillow by FavorGear. The brand is new to me but it works great. The pillow is comfortable andextremely compact: with the push of a button the air releases and it fits into a tiny carrying pouch.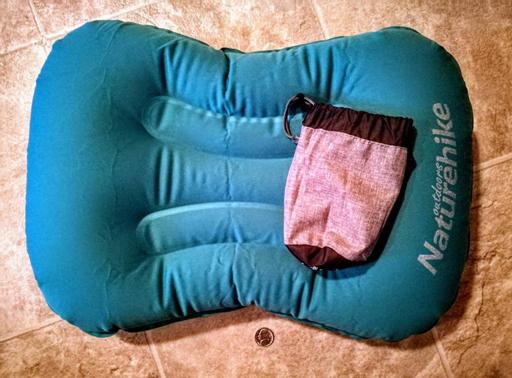 And that's it!
Am I missing anything? Have you found a good value in camping gear? Let me know! I'll keep adding and testing new items as needed!