Vegan Options at Qdoba
November 15, 2017 / Nicole Huston


Updated Mar 2, 2020



---
Traveling and being vegan always requires a little bit more pre-planning. I ended up in a hotel with a fridge but no microwave. UGH, the worst kind of hotel! So I've been ordering a lot of meals online.
Earlier in the week I got Chipotle and passed Qdoba on the way back to my hotel. I haven't eaten at Qdoba since high school, about 7 years. Today I decided to give it another go.
I went to Qdoba's website and saw that they had online ordering. "OK awesome, now I can order whatever I want and can avoid explaining my dietary choices to anyone!," I thought. The sad life of trying to order food vegan food. YES, FOR THE 5TH TIME I DO NOT WANT ANY MEAT. NO, I REALLY DON'T WANT CHEESE EITHER! Thank you!
So I prepared to order from their online ordering portal. I got all my research ready: multiple Google search articles of what ingredients the restaurant has that are vegan and Qdoba's allergen list.
But magically to my surprise Qdoba had this awesome online ordering portal that catered to multiple different dietary options!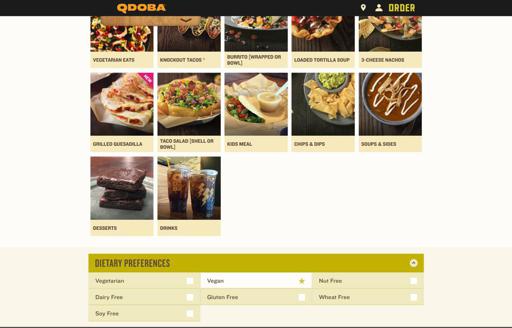 Basically all I had to do was select the vegan option and other options that did not match disappeared. How cool is that?!
I've ordered from so many different restaurants online now and am used to picking based on allergy information or unofficial sources saying items are vegan that I can't trace back to an official statement from the company. Or even worse is restaurants that have a vegan page to tell you what you can order but it's outdated and most of the items aren't even on the menu anymore. (Looking at you Panera…)
Every restaurant should follow Qdoba's lead on this one.
Honestly my only complaint was that I couldn't add avocado to the taco salad but I could add it to the burrito bowl from th online platform. A small price to pay for being able to eat vegan and order with ease for once.
I got a vegetarian taco bowl and side of tortilla soup with added veggies.
Eating vegan at @qdoba 👍👍👍 #vegan #qdoba #veganlife #veganfood #veganhour #veganfoodshare #veg #veganlifestyle pic.twitter.com/1oZVwp7hox

— Nicole (@bonktothefinish) November 16, 2017
Next time I'm thinking of trying the loaded tortilla soup to get a bigger portion though, as the soup was SO good.