Honor Run Half Marathon Race Report
November 16, 2017 / Nicole Huston


Updated Mar 2, 2020



---
Race Info
Location:
Florence, Kentucky
Date:
Sunday, November 12, 2017
Distances:
Half Marathon, 5k, Kids Run, 2-Person Relay
Race Website
Disclaimer: I received a free entry into the Honor Run Half Marathon as part of being a BibRave Pro. Learn more about becoming a BibRave Pro (ambassador), and check out BibRave.com to review find and write race reviews!
Originally I was planning to run hard and PR at this race. I ended up PRing at the Urban Bourbon Half just a few weeks prior. After my PR elation, I decided to throw my original hard-running plans out the window and taking it a bit easier, October had heavy miles anyway.
In the back of my mind I was secretly hoping to PR but once the race started it became apparent that this wasn't the best course for it anyways. More to come on that.
Camping
Florence is close to Big Bone Lick State Park, a place I've wanted to visit for a while now. I also wanted to bring my dog along on my travels. So my options were either a cheap hotel that accepts massive dogs or to camp. I picked camping last minute even though it was going to be pretty chilly. I packed up my 0 degree sleeping bag for the occasion. Viira was glad for the cool weather though.
The campsite was about a 20 minute drive from the Florence Mall where both packet pick up and the race start/finish would be. I headed down in time to set up the tent while it was still light out and grabbed some groceries before heading to packet pick up.
Packet Pick-Up
My favorite thing about packet pick-up was how late it was open. The packet pick-up was located inside of the mall from noon-9pm! This meant I had plenty of time Saturday morning to pack and travel to Florence without feeling like I had to be watching the clock all day.
I got to packet pick-up around 7pm. The mall was pretty full on this Saturday night.
The race instructions email stated packet pickup was in the lower center court. I did a couple laps around the mall, really not seeing anything that looked remotely like where I was supposed to be. Finally, I asked a kiosk employee if she had any idea where I was supposed to be. She pointed not 100 feet from where I was standing and there it was. The packet pick-up had black tables and honestly blended in pretty well. I think a bigger banner or some signs would have helped to find the location. At least I got some extra training in!
Once I found the packet pick-up it was a breeze with no lines and convenient options to buy last minute items from the local running store.
Race Day
The race started and finished at the famous "Florence Y'All" water tower. Temperatures were chilly in the lower 30s at the start. I sat in my car not wanting to stand in the cold before getting a text from the other BibRave Pro Henry, saying that the mall food court was open. How nice! I headed that way to keep warm before the race start.
There were long lines for the men's and women's bathrooms but surprisingly only one person waiting in line for the family restroom. I hoped in line and was in and out in a matter of minutes! Can't beat that!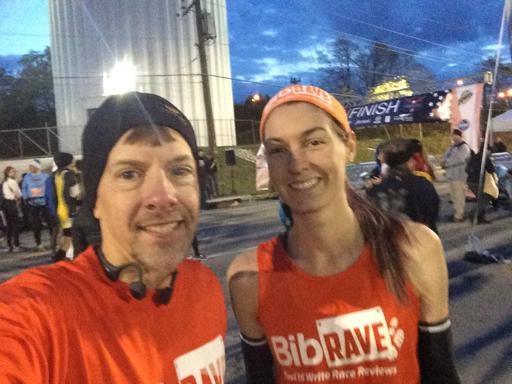 Heading to the starting line it was cold but luckily there wasn't much wind. The race start had no pacers or pace signs so it was difficult to know exactly where to line up. I started a bit further back than I should since I had already decided I wasn't going to PR.
As the race began I was trying to hold back on pace but with the first stretch being a slight downhill I had to let that go. About 2 miles in the race hit the first major hill.
The course loops around what seemed like pretty major roads. It was nice to have tons of space especially in the early miles as everyone locked in their pace.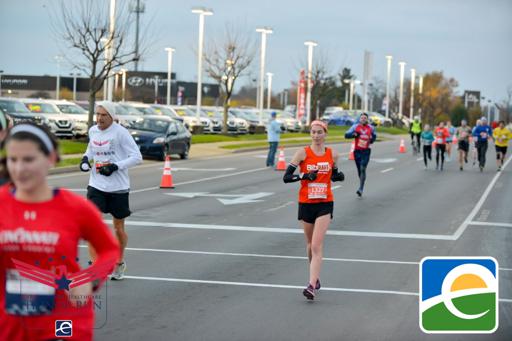 From here we headed towards the Cincinnati Airport (which is actually in Kentucky… how confusing is that). As the airport was coming into sight we hit a downhill. I saw a runner on the other side of the street running up and realized that I was going to have to head back up. That took some of the enjoyment out of the downhill! There was rolling hills from here until the first turn around. It seemed this race would be much hillier than I had anticipated.
And as some sort of big joke the worst hills were yet to come! After the out and back stretch near the airport there was another out and back section. And these hills were much longer. At this point I decided to run from here on based on effort, not pace.
The one thing I did like about all the out and backs was that it made the race feel much larger being able to see the top runners all the way to the back of the back runners. That helped the time pass but still, the hilly stretches felt never ending.
Raindrops came around mile 11 and I picked up the pace to try and beat the rain. Arguably the worst hill arrived at mile 12. It was short but steep. My efforts increased to climb up faster but there seemed to be no corresponding increase in pace. It seemed like one of those hills you probably could have walked as fast as your ran.
I tried to pick up the pace after this hill into the finish but my legs were pretty beat. Unfortunately there aren't a ton of hill training opportunities in Columbus.
Final Time: 1:43:21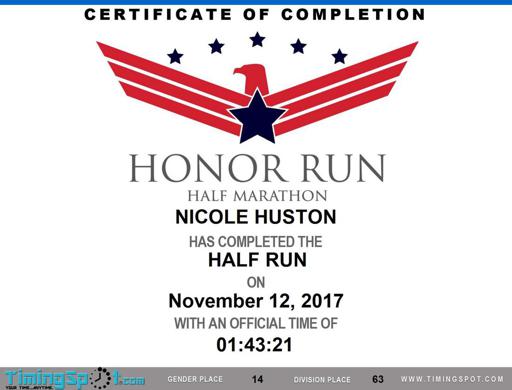 For a small race the finish line was amazing. At the start it was announced that Skyline would not be at the finish as anticipated. Bummer! With all the options though, they weren't missed.
Mini cupcakes, a BBQ foodtruck, subs, cookies, gatorade, coffee, and more. This was probably my favorite part of the race, even though I didn't eat much due to recently going vegan. I got a sub and picked off the meat. I only hung around for a short time though as I got cold FAST once I stopped running. Brrrr! I made it back to my car and threw on several extra layers.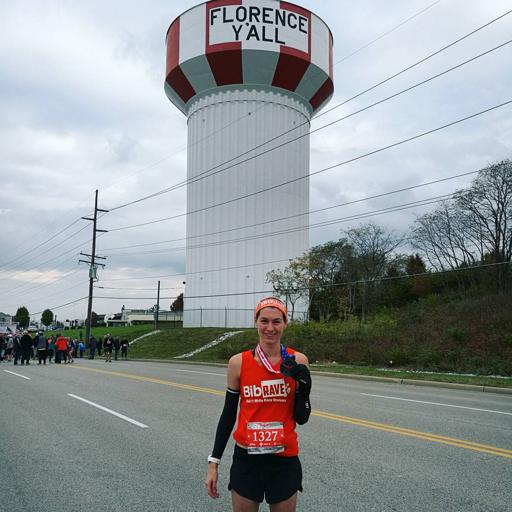 Race Collections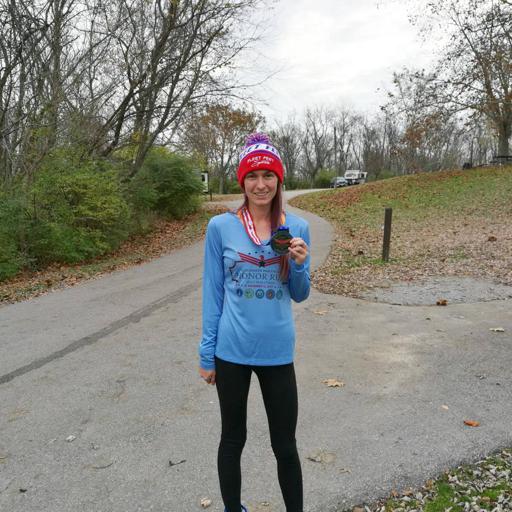 I also placed in my age group and got to pick up a $10 gift certificate to the Tri-State Running Company. It ended up working out well because I had to return to Florence for the 2 weeks following this race which gave me plenty of time to pick up my gift certificate and spend it. My only comment here was that being out of town I didn't find out I placed until after I had already returned from the race at which pont I got lucky I was returning to the area for work.
Picked up my AG award from @TriStateRunning and @HonorRunHalf 👍 new @balega socks ☑️ pic.twitter.com/hw0eEZs1j8

— Nicole (@bonktothefinish) November 21, 2017</blockquote>