Olde Girdled Grit 50k Race Report
March 19, 2017 / Nicole Huston


Updated Mar 2, 2020



---
Race Info
Location:
Concord Twp., Ohio
Date:
Sunday, February 26, 2017
Distances:
50k, Marathon, Half Marathon
People:
217
Race Website
This was my final run before taper going into GDR. I ran 11 miles the prior day and went out to hit 50k the next day. I drove up the morning of from Columbus, which was over a 2 hour drive.
My alarm went off at 4:00AM. "WHAT IS WRONG WITH ME," is all I could think as it went off. I turned the light on and watched my dog glare at me. She is not a morning dog. I stumbled into the kitchen and made some cereal with strawberries, banana, chia seeds, hemp seeds, and almond milk. I stuffed my face and put on all my layers knowing I was in for a cold day.
With about 45 minutes left in my drive I felt myself getting tired. I typically don't have this issue when driving to races but I had been driving in the dark for 1.5 hours at this point. I figured I'd exit off the highway and buy some caffeine. About 10 miles later I exited. I drove to one gas station after another realizing that most gas stations in small towns are closed at 5:30AM.
Miraculously, I found one that was open. The lady working seemed suspicious of me as I was in essentially all neon yellow with my running tights and patagonia coat. To add to my look, I hadn't brushed my hair yet, so I appeared a bit disheveled. I grabbed a Sprite and headed to the counter. (Disclaimer: I don't drink pop often.) … Oops, left my wallet in the fridge. The lady, who had been watching my every move, now seemed even more suspicious of me. I was happy to get out of there.
I kept driving and chugging the Sprite wondering why the hell the caffeine hadn't hit me yet. It had started snowing just as the sun began to rise. I made it all the way to the race start before I finally got the chance to read the Sprite bottle: "No caffeine." … Well I felt dumb.
I checked in and just hoped to stay awake long enough to finish the race. My breakfast had worn off and I was happy to find mini bagel bites at the start.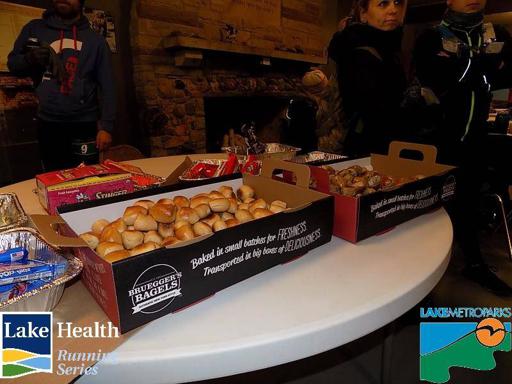 I meet up with a few friends, two who were running the marathon and one other that was running the 50k (who was also training for GDR!).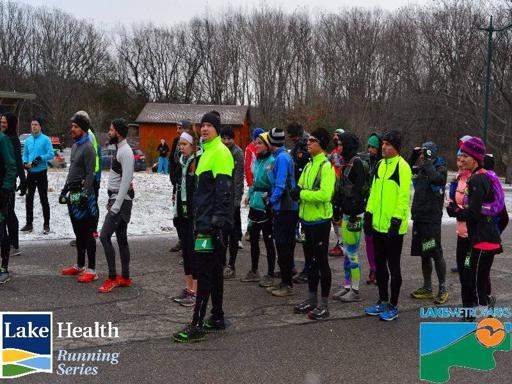 The 50kers headed out first to run our short add-on loop that we had to complete at the beginning and end of the two longer 13-ish mile loops. This section was semi-technical with a decent amount of mud, but not bad considering all the rain and snow that had happened over the past few days. After this section was completed you headed out to a long stretch of road to get to the next trail loop that was about 3 miles long. This road out and back caused a large portion of the race to be road for a total of aproximately 12 miles. If it wasn't for the muddy technical add-on loops for the 50k, you could have gotten away with running in road shoes.
The windchill was worse than I was expecting and I found myself focusing on my hands to make sure they stayed warm. I had an extra layer of gloves and hand warmers in my drop box, but with the long loops I ran the first 16 miles without access to my box. I got to run with several first time 50k runners which helped pass the time and ignore my cold hands. There was a fun suspension bridge out on the course too that you ran over several times.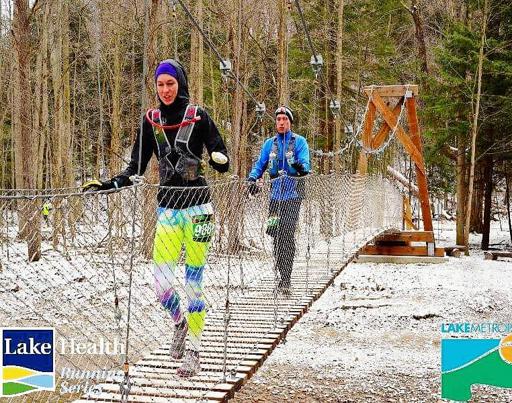 After coming into the halfway point I grabbed my extra layer of gloves. My hands warmed up for a few miles. Warmer weather rolled in and the wind died. Suddenly I didn't need the extra layer of gloves. Of course.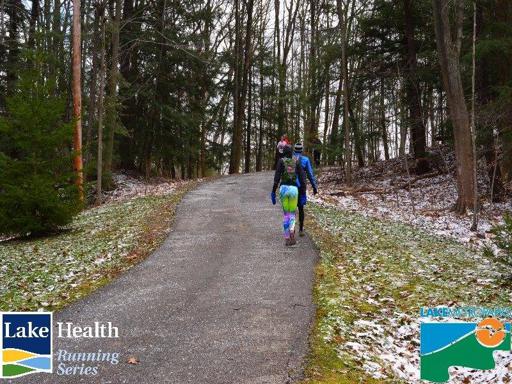 The next 13 miles felt like they flew by as I caught up with friends and we discussed other potential races. After completing the final road section to head back to the Environmental Learning Center we had to do our final add-on loop. I was a bit confused about how exactly the loop was supposed to work but hoped a volunteer would be there to guide us. I looked at the map prior to the race, read the email with instructions, and listened to the race day morning final instructions but still was confused. We got there and of course there was no volunteer. We asked other runners who told us to run left at the fork and finish that loop and to hit the right fork on the way back from that loop. That's what we set out to do.
As we started the loop from the right fork, we caught up to another runner who informed us we had to go all the way back to the start before starting the last loop. This seemed wrong as I felt like I would have remembered this important detail. She told us that she made the same mistake last year and that's how she knew. At this point we were already over halfway through the loop. We figured we would just run back to the start, ask for clarification, and run back out to the fork and back if needed to hit the right distance.
As we pulled into the start we were handed medals, but I asked for clarification about the course. I am not sure if the man we spoke to was a volunteer or part of the race crew but he very angrily informed us that "Now our split times would be messed up because of our error." Seriously dude?! I wanted to make sure I ran the full distance but at this point my splits were already messed up. It's not like I wanted to have inaccurate splits.
Another runner overheard our conversation and realized she had made the same mistake and was also a mile short. She handed back her medal and ran back out with us. We didn't have to run back to the start after the first add-on loop, so it didn't feel like a given that we were supposed to run back to the finish before the final loop.
Anyways, we ran through the finish once again and this time for good. We were greeted by someone who was clearly part of the race crew who apologized for the confusion. I guess most of the rookies make this mistake once at this race.
Final Time: 6:31:44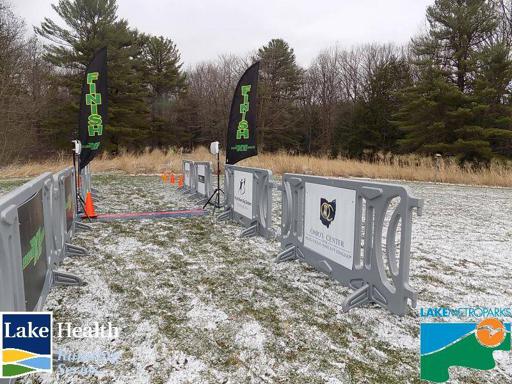 Despite the slight course confusion, I enjoyed this race. It was a mostly non-technical course with less elevation change than other 50ks in the area making it a faster course.
Race Collections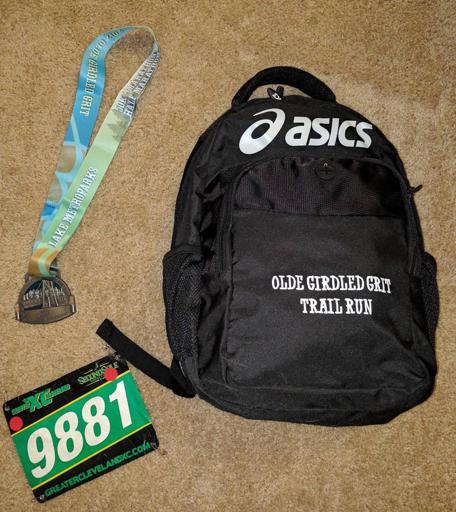 The backpack was a welcomed change from the typical race shirt.
---
Race Photos from Lake Health Running Series