Tribute to My Old Race Shirts
December 3, 2016 / Nicole Huston


Updated Mar 2, 2020



---
I'm moving in a few months. The pre-move decluttering has begun! I've done enough races at this point that I have shirts for months without needing to do laundry. Many will not survive the move. Below are some shirts that I am giving away that deserve some mention.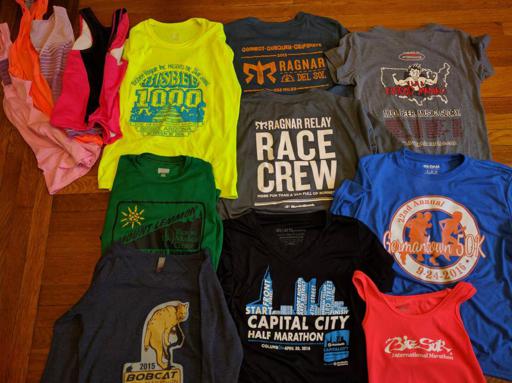 From left to right, top to bottom:
4 workout tanks: You served me well in my freshman year of college when I decided to make exercise a priority. I got all of my workout clothes either as hand-me-downs, or from thrift stores. I didn't know that not all tech materials are created equal at this point in my life, but you helped me learn.
2014 Bisbee 1000: A challenging race that I underestimated in my training. 4.5 miles with over 1,000 stairs, and 1,175 ft. of elevation change located in the quaint little town of Bisbee, Arizona. I also thought it would be a great idea to run the A-Mountain half in Tucson, Arizona the next day. 13.1 miles, the awful A-mountain halfway into the race and 1488 ft. of total elevation change. I still remember waking up early on Sunday to ice my knees before Race #2, and puking in the porta potty 10 minutes before the start of the half. Good times.
2013 Ragnar Del Sol: My first relay race. 12 runners, 3 legs per runner, and 203 miles to go. All of my friends freshman year talked me into it. Peer pressure isn't always a bad thing.
2014 Rugged Maniac: I convinced a bunch of girls to come volunteer with me in Phoenix in exchange for a free race. Easily the muddiest mud run I've ever done. (It's hard to make mud that is not sandy in Arizona. Pretty sure they shipped it in.)
Ragnar Race Crew: Somehow over the years I've collected a bunch of Ragnar shirts from races I've never done. They used to give them away at expos. I think they've stopped doing that in recent years as the company has grown.
2013 Mount Lemmon Half and Full Marathon: Sadly this is the race shirt from the last time this race was ever put on. The race lined up on my birthday weekend and my dad came to run the full. You start at around 2,000 ft. and gain 6,000 ft. of elevation to make it to the finish for the full. I had only ran 2 halfs at this point and ran the half with a friend. It was the hardest race I'd complete for several years. I won my age group (F 15-19). The following year permits fell through, and the grumpy old retirement town at the top of the mountain put an end to the race.
2016 Germantown 50k: My first ultra since my DNF at Burning River 100 this past August. I was out of shape. The best way to get back into shape is to struggle through a tough run, and that's exactly what I did. It was also my 4th ultra of the year with ORRRC, so my finish here won me a Patagonia bag for finishing the 200k! No Way!! race series.
2015 Bobcat Trail Marathon: My 4th marathon and 1st ever trail marathon. I had a cold and couldn't breathe out of my nose the entire race.
2016 Capital City Half: My mom and step dad completed their first half. I went for moral support. My mom finished 2:19:04 using the run/walk method.
2015 Big Sur Marathon: My 2nd marathon completed on my 21st birthday. (I ran my 1st to train for this race.) WINDY and extremely beautiful views. I want to retire on that coast.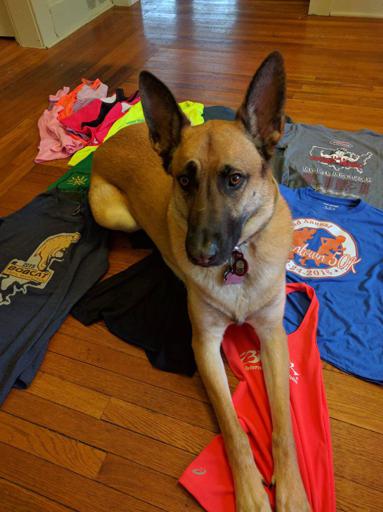 Viira apparently thought I made her a bed… or she doesn't want me to get rid of all of these shirts.