2020 Mesa-Phoenix Marathon Ambassador + Discount Code
August 3, 2017 / Nicole Huston


Updated Mar 2, 2020



---
Discount Code Updated for 2020: BONKTTF10
I'm excited to announce that I've been selected as an ambassador for the third year in a row for the 2020 Mesa-Phx Marathon! The race is Saturday, February 8th, 2020. I will be returning to Arizona (finally!) after moving away back in 2015. I miss the desert and their dry heat!
Let me just say I LOVED this race last year. The marathon had warm bonfires and heaters at the start (trust me you actually do need those in the desert in February)! I had friends who ran the half, full, and 10k and all had great things to say about the race. You can't go wrong picking a distance! Last year if you BQ'd you even got a special visor.
This year they have added many virtual race options at very reasonable prices. If this is something you're interested or even want to just test out I'd recommend it as the cheapest option is only $25.
Check out my ambassador bio: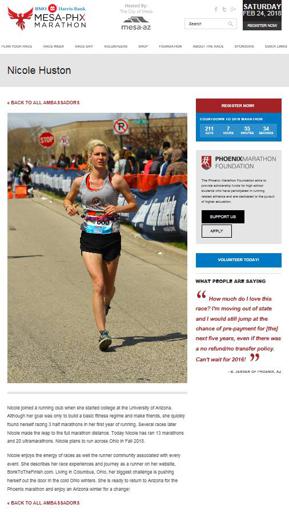 February will be the perfect time to ditch my cold northern winter and spend some much needed vacation time in the sun. Add running and you have the makings of a perfect vacation!
The course is fast too. 20.7% of the runners who ran the full marathon in 2017 qualified for Boston. Even if you are not looking to qualify for Boston, the course is all downhill making it a good course to pick if you're looking to set a PR.

Use my code "BONKTTF10" for $10 off the full and half marathon pricing for 2020. Sorry 10kers and virtual runners, the code won't work for you. But don't wait too long because this race has sold out every year since 2013. And let me know if you sign up! I'd love to know who else is racing.
Don't forget to check out my other discounts here.
Related Posts