Dirt of the Earth 10k Race Report
April 20, 2016 / Nicole Huston


Updated Oct 7, 2019



---
Trailhead
Intro
This past Sunday I went out to Alum Creek to tackle a quick trail run for the last week of my marathon taper. I didn't have any goals and just planned on taking it easy and seeing how my legs were feeling after a few back to back 30+ mileage weekends. I haven't done a trail run since early February which was my first 50 miler on the same trails. After my 50 miler I found that my now-discontinued Mizuno trail shoes (which I had thought would be always be my favorite shoe), gave me a haglund's deformity after 50 miles in sloppy mud with the back of my shoe rubbing up and down against my heel. By the end of February I decided to get rid of my Mizunos and Altra Lone Peaks that were too small. I was left with one pair of Nike trail shoes that I really hated but someone had given them to me. I made a mental note that I needed to get a new pair of trail shoes before this race.
Race Day
Race morning! Guess who never got around to buying new trail shoes… I briefly thought about wearing a pair of road shoes out but knew I'd need the traction on this trail (it's notoriously muddy even when it hasn't rained recently) so the pair of Nikes would have to do. I tied the shoes on tight and went to the start.
Mile 0-1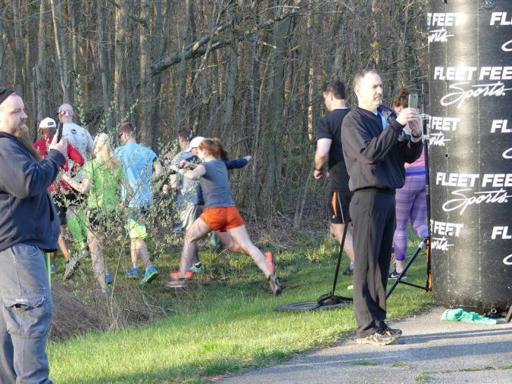 I didn't start as far up as I should have which became abundantly clear with the starting pace. It was tight on the single track trail and I was weaving my way up to find a pace that I liked. I wasn't making any attempt to avoid mud because I knew that we hadn't even fit the worst of it yet. There was a small divot in the ground and I decided to just step in it instead of overstriding. I lifted my foot from the divot and my shoe was gone. I turned around to pick it up and had runners practically tripping over me. I thought about stopping to put it back on but thought it would be best just to keep running until a clearing.
Mile 1.5
"Man why am I still carrying this shoe? Ok I we're coming back around to the start I'll just throw it over there so I can pick it up when I'm done."
…
"WAIT WHY DID I JUST DO THAT? What if I changed my mind and wanted to stop to put it back on? Clearly should have drank some coffee this morning. Well I'm not turning around at this point, better just keep running at this point…"
Miles 2-4
At this point I had found my groove and was actually enjoying the shoeless foot. I thought about stopping to take the other shoe off but I was racing and thought if I wanted to stop to take my other shoe off, I should have just stopped earlier to put my other shoe back on. Not all runs are meant to be perfectly comfortable. This felt especially true as the trail took a turn into an area where the ground was covered with sticks and logs. I was trying to keep my pace but was simultaneously thinking about the horrible scenario of a stick going through my foot right before my marathon next weekend. That thought stuck with me through the rest of the race. Around mile 4 I remembered why I never wore the Nikes. They just don't feel right on my feet. My shoeless foot and leg felt better than the other one. Someone behind me commented that if they ran like that they wouldn't be able to walk the next day.
Miles 4-Finish
Yikes. Tons of roots to avoid in this stretch. The mud also came back in full force. When I got to a stream crossing I knew I was getting close and picked up the pace one last time. I came into the finish at 1:01:20. Not my best time for a loop out there but not too shabby either. As expected, the metals were unique (and LARGE) and there were plenty of snacks at the end. Another well run event by the Rocks and Roots team.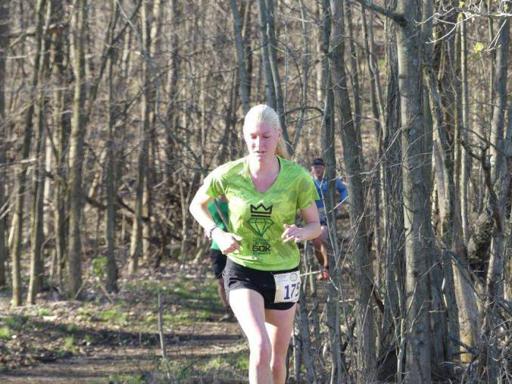 Course Map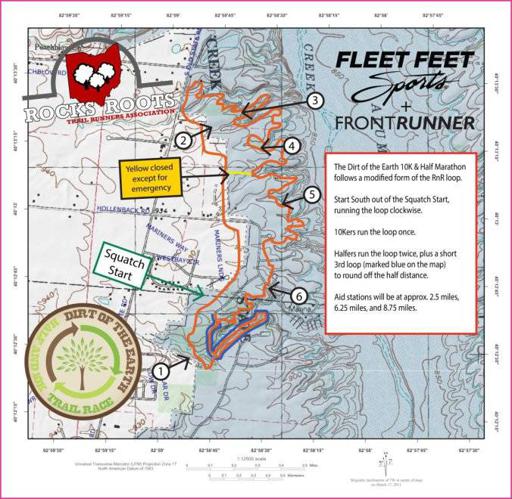 Obligatory Swag Pic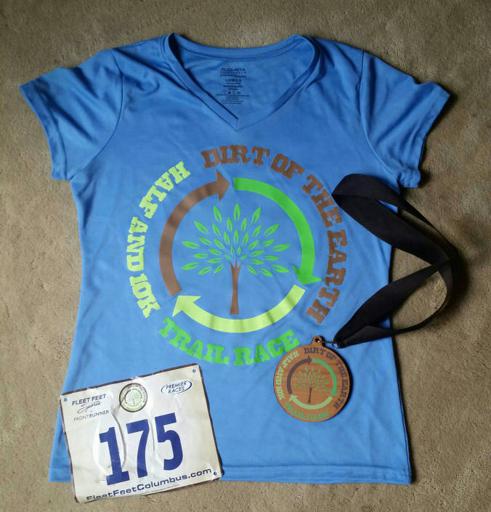 ---
Race pictures by Dave Alverson